Insurance for High-Net-Worth Individuals
Protect your most valuable assets with the best
*Only the most distinguished insurance professionals in the US have access to this suite of insurers.
Top A+ Rated High Net Worth Carriers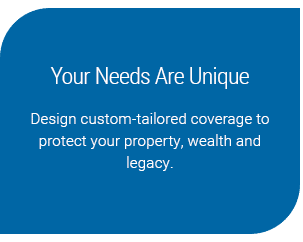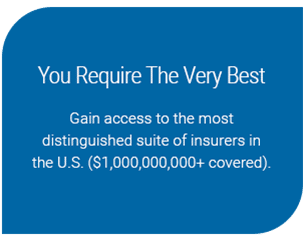 Insurance For High-Net-Worth Individuals
Specialty Clients Have Unique Needs
Customer Confidentiality
Comprehensive Coverage
Personalized Customer Service
Chubb, PURE, Cincinnati Insurance & AIG's Private Client Group (PCG)

Get The Best Rates For Your
High-Net-Worth Individual Insurance
"I have been using this company for my auto insurance for years now with no complaints and only positive things to say. My rep Daniel Gorman is as professional as they come. He has always gone the extra mile to save me money on my insurance, and if needed will return my calls and emails on the weekends if I have any questions. I highly recommend this company, 5 stars across the board!"
"I was researching options for lower homeowners insurance and looking for a local agent. Daniel Gorman was extremely responsive to my request, without being pushy. He presented me with several viable options and suggested a conversation take place with my current agent to get a comparison. End result was more appropriate coverage for my needs at reduced costs. I highly recommend him to anyone looking for new insurance options."
"I have used Allstate for my homeowner's insurance for over 12 years. After buying my second home in Mount Sinai, my real estate broker recommended Coastal Insurance Solutions. I gave them a call and I was able to save 30% from my current home insurance package. Great rates! Staff is super helpful!"
High-End Insurance for High-Net-Worth Individuals
Our Signature Client Portfolios Include:
High-Net-Worth Individuals
High-Profile Professionals
Professional Athletes
Celebrities
Public Figures
Media Personalities
Elected Officials
Entertainers & more
Innovative Property & Casualty Solutions for a Variety of Coverages:
Kidnap Protection Programs
Yacht & Watercraft Products
Private Jet & Turboprop Programs
Estate Owned Property Programs
Extensive Wine Collection Programs
Collectible Car Portfolio Programs
Broadened International Coverage Options
Jewelry Collections
Fine Arts Collections
Furs & Musical Instruments
Sports Memorabilia
Flexible Excess Liability/Umbrella Limits
Coverage options include; $1 million, $5 million, $10 million, $25 million, $50 million, $100 million, $250 million, $500 million.
What sets us apart?
A private call-in number for clientele, including their asset managers and assistants
Licensed, highly experienced service team designated solely for our Signature Portfolio Members
A detailed review of portfolio risk management and solutions
The most competitive rates available in the market
High Net Worth Insurance Articles
Hundreds of insurers compete for the U.S. home insurance market, but a select group of providers specializes in the high-value market catering to high-net-worth households. Off-the-shelf products from broad-market insurers can miss key risks for affluent families....
read more