Florida High-Value Home Insurance
Designed for FL's Finest Homes $1M+ *Only the most distinguished insurance professionals in the US have access to this suite of insurers.
Top A+ Rated High Net Worth Carriers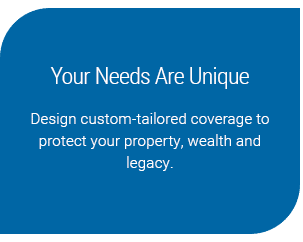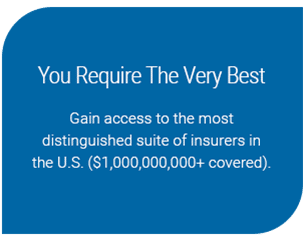 We Consistently Maintain 5-Star Reviews Across Review Sites
★★★★★
Florida High Value & Luxury Home Insurance
Packages: Auto/Home/Umbrella
Comprehensive Coverage for High-Net-Worth Floridians
Full coverage for your luxury home, autos, collections, and more
Expert claims handling ensures a smooth process
Risk analysis and risk management identify potential concerns
Generous coverage limits of up to $100 million protect your legacy

Individualized Insurance for Luxury Florida Homes and
High-Net-Worth Families
With more than 1 in 20 Florida households worth $1 million or more, it's clear that the Sunshine State grows a lot more than sugarcane and citrus. The state is a leading wealth producer and protecting what you've earned is paramount. Experience counts when the stakes are high, and it makes sense to partner with insurance companies that specialize in protecting high-net-worth individuals and affluent households.
Your high-value home stands as a reflection of what you've accomplished. Protecting your home properly is about more than just coverage limits. A high-value home package considers not only your home itself, but also your collections, valuables, and the unique touches that make your fine home distinct.
We partner with the best specialty insurers in the nation to protect your home and your assets and can customize coverage to address the unique risks of your household. Leading insurers like NatGen Premier, Chubb, AIG, Cincinnati Insurance, and PURE provide you with higher coverage limits and custom-tailored coverage options that fit your distinctive lifestyle.
Coverage can expand to cover multiple homes and liability risks whether at home or while away. For unparalleled expertise and white-glove service, reach out to the experienced team of agents at Coastal Insurance. We combine expert knowledge with confidentiality to help you build the best high-value home insurance package to protect your home and family.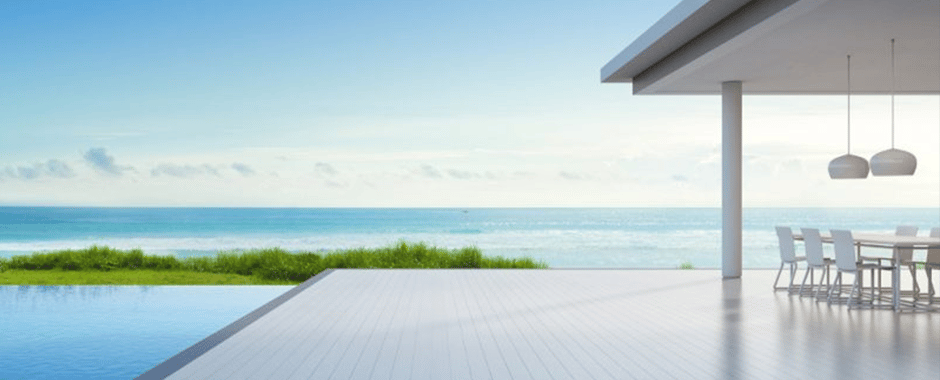 High-Value Homeowners Insurance for Florida Families:
Coverage Options to Protect Your Legacy
When you consider the base coverages, most home insurance policies offer a similar structure. However, for high-net-worth families, basic coverage can leave troubling and potentially costly gaps. By partnering with an agency that understands the needs of high-net-worth households, you can be assured that your personalized insurance package covers the gaps left by standard homeowners insurance policies – and even expands to cover new risks that off-the-shelf policies can't address.
Florida's sunshine and tropical weather can bring as much risk as it does beauty. If you suffer a loss at your home, a specialty high-value homeowners insurance policy can not only pay to rebuild your home – restoring its original charm and elegance – but also cover the cost of replacing the special features that make your home unique. Enhanced coverage for your valuables helps round out the package, covering the gaps often left by standard home insurance policies.
Consider these essential policy features:
Ample coverage limits to protect your home now and long into the future
Generous coverage limits to protect your belongings
Personal liability coverage that travels with you and your family
Coverage for cost overruns if rebuilding exceeds your policy's limit
Expansive liability protection that covers more risks than a standard policy
Expert consulting and risk management strategies
Many insurers now offer higher coverage limits for homes, sometimes reaching into seven figures. However, a standard home insurance policy designed for the broad market can miss the mark when it comes to protecting high-net-worth Florida households. Our specialized homeowners insurance packages offer expanded protections, specifically addressing the coverage gaps often left behind by broad market home insurance policies. The difference is in the details.
Coverage for belongings can be a big concern. Fine art, fine furnishings, and collections often can't be covered properly with a standard home insurance policy, even if the aggregate coverage limits seem sufficient. With a specialized policy designed for Florida high-value homes, you can protect your cherished items with coverage designed for high-dollar valuables and even one-of-a-kind items.
It's hard to put a price on experience. Our expert agents have worked with high-net-worth individuals and households throughout the country. One key benefit of that experience is that we know which questions to ask and where to look for risks. What starts with a well-featured policy designed for luxury homes and affluent households is then customized to the specific coverage needs of you and your family.
Because we're independent agents, our loyalty is to you – our client – and we have the freedom to choose among the top insurers to design the best home insurance package to protect your Florida home as well as your other assets. Expect top-tier coverage from respected high-value insurers like Chubb, AIG, PURE, and Cincinnati Insurance.
Why choose specialty insurance for my high-value home?
You've worked hard to build your success and greater success comes with unique coverage considerations. While Florida's weather risks are often a big concern, liability can be the largest risk to your legacy and a distinctive lifestyle can bring more liability risk. If you have a household staff or frequently entertain guests at your home, your liability risks can be higher. Of course, success also means there's more at risk. A specialized policy comes with larger coverage limits but can also be customized to provide additional liability coverage than standard policies might miss.
Protection for your belongings is another area where it pays to invest in customized coverage. Standard policies place hard limits on coverage for valuables, often leaving homes underinsured. You'll also find coverage limits by category, which can be costly in a covered claim. Our customized high-value homeowners packages can offer full protection for your valuables, collections, fine art, and more. You'll pay only for the coverage you need, helping keep costs affordable while also providing individualized protection.
Umbrella and expanded liability protection
for Florida homeowners
One important lesson we've learned from our high-net-worth clients across the country is that liability is often of their biggest concern. That concern is well-placed. A loss due to damage to your home or belongings can be devastating, but the potential loss due to personal liability can be much larger, often making personal liability the largest single monetary risk for California homeowners.
Liability coverage is included with nearly all home insurance policies from insurance providers throughout the country, but coverage limits can be frustratingly low, putting your assets and even your future earnings at risk. Our specialized high-value home insurance packages can increase your coverage limits but can also expand coverage further.
An umbrella policy offers a cost-effective way to increase the coverage limits for underlying policies, like your home and auto insurance policies. In addition to increased limits, you'll also find new liability coverages that aren't available with a standard home insurance policy. Among these expanded protections are coverage for libel and slander. If you or your family spend any time online or on social media, you already know how easy it can be for potentially costly misunderstandings to arise online.
To expand your liability coverage limits even further, an excess liability policy can be bundled as part of a well-designed, high-value home insurance package. Each layer of protection increases your liability coverage limits cost-effectively, while also customizing coverage to the unique liability risks of high-net-worth households.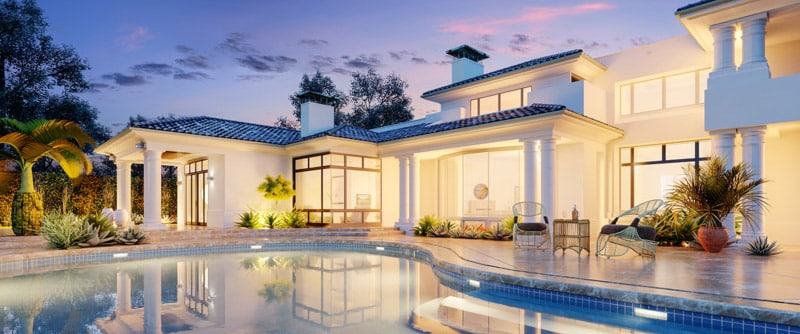 Florida's wind and water weather risks
Florida's nickname of "The Sunshine State" is well deserved, but we all know Florida weather isn't always sunshine and rainbows. Florida has the unique distinction of being hit by more storms than any other state in the nation. In fact, it's difficult to find a year in which The Sunshine State isn't hit by a hurricane. In the past 150 plus years, fewer than 20 years have gone without a large storm impacting the state.
You'll need an outsized home insurance policy to keep up with Florida's outsized storms. Higher coverage limits are key – but you'll also need a policy that covers all the valuables and distinctive touches that make your Florida home unique. Our high-value home insurance packages for Florida homeowners can cover homes worth over $1 million, up to estates worth over $100 million. Of course, we can cover multiple homes as well.
Wind and rain are some of the biggest risks for Florida homeowners, but flooding can also be a big concern in many parts of the state. Our experienced agents can help you pair coverage for Florida's frequent floods with expansive coverage for your home and valuables. Recent changes in the National Flood Insurance Program (NFIP) allow you to purchase the coverage you need without limitations that can put your home at risk.
Premium protection for your Florida home and lifestyle
Protecting your high-value Florida home is just one piece of the puzzle. When you've achieved a certain level of success, you have more to protect and a personalized insurance package can help protect your legacy in many ways.
Each high net worth Florida household has unique needs. Consider the following protections – or others – based on your lifestyle:
Vacation homes, condos, and secondary residences
Luxury autos and automotive collections
Yachts, boats, and other personal watercraft
Aviation coverage for chartered planes or planes you own
Coverage for cyber liability risks
Kidnap and ransom insurance
Coverage to protect your family against identity theft
Specialty Insurance Agents for High-Net-Worth Florida Households
In many ways, your luxury home is irreplaceable. After all, your home represents who you are as a household and what you've accomplished. However, you'll want to protect your home, your valuables, and the success you've built with customized coverage.
Our agents are dedicated to protecting the legacy you've built and uncovering potentially costly risks that others may overlook. As independent agents, we can customize a complete solution, placing your needs at the forefront. Helping you preserve what you've built is our #1 priority.
Helpful High Value Homeowners Insurance Articles
For homes with a rebuild value of $1 million or more, you can choose a high-value home insurance policy instead of standard home insurance. The choice of a high-value home policy brings many compelling advantages, ranging from broader liability insurance...
read more