Texas High-Value Home Insurance
Designed for TX Homes $1M+ *Only the most distinguished insurance professionals in the US have access to this suite of insurers.
Top A+ Rated High Net Worth Carriers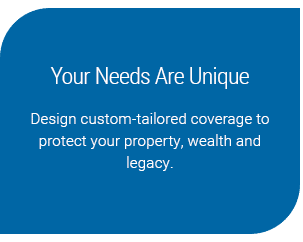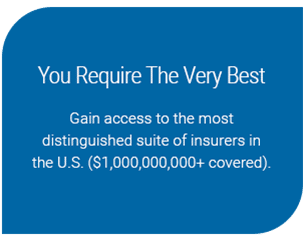 We Consistently Maintain 5-Star Reviews Across Review Sites
★★★★★
Texas High-Value Home Insurance Packages
Auto/Home/Umbrella
Comprehensive Coverage for High-Net-Worth Texas Households
Protect your home and safeguard your assets
Rest easy with industry-leading claims handling
Confidential risk analysis with experienced risk-management advisors
Protect your legacy with coverage limits up to $100 million

Customized Protection for Luxury Homes and Automobile Collections
The great state of Texas offers an independent lifestyle but also brings unique risks.
It makes sense to partner with the best insurance company that can provide a custom homeowners insurance policy for your home in Texas.
Your high-value home represents more than a financial investment, it's a reflection of who you are and what you've achieved. Our team understands your home — combined with your carefully chosen decor, stunning art, and other collections — is a unique statement of identity. We've partnered with the best specialty insurers in the industry to protect your Texas home and your family's assets, as well as to help ensure your legacy carries on.
Luxury home and high-net-worth insurers like PURE, Chubb, AIG, Cincinnati Insurance, and NatGen Premier offer a selection of coverage so you can choose the right combination of options to protect your Texas home and Lone Star lifestyle. If you own several homes or travel extensively, customized packages can protect your properties and safeguard your family while at home or abroad.
Our advisors embrace the essential importance of honest and confidential advice to help protect what you've built and what you'll build in the future. For world-class service and unmatched expertise, reach out to your Coastal Insurance agent today; complete coverage that covers the gaps left by standard policies is often more affordable than you might think.
Luxury Homeowners Insurance for Texas Families: Understanding Coverage Options
At their core, most home insurance policies do similar things. The distinctions that come with customized coverage — which become increasingly important for high-net-worth families — are why it makes sense to partner with an insurance agency that's experienced in writing coverage for High-Value Homes in the State of Texas.
If the unexpected happens, your customized high-value homeowners insurance policy can pay to rebuild or repair your home, restoring your luxury home to its original beauty. A standard home insurance policy functions similarly, but can leave costly coverage gaps. Instead of worrying about coverage gaps, you'll enjoy the enhanced protection of a policy built specifically to meet the needs of affluent households and customized to protect you and your family.
Your individualized coverage can provide these extra benefits:
Sizable coverage limits for your home
Higher coverage limits for your belongings
Generous coverage limits for personal liability
Options to cover cost overruns if rebuilding exceeds the insured value of your home
Expanded liability protection to cover more risks
Risk management consulting
A standard home insurance policy — even one with higher coverage limits — is a product designed for the broad market. While a standard policy meets the needs of most households, Texas families like yours benefit from the expanded protections offered by a homeowners policy designed to meet the needs of high-net-worth households.
One area where high-value homeowners insurance shines is in the way your policy can protect against costly losses for damage to your belongings, including wine collections, fine art, and high-end furnishings. A standard home insurance policy caps coverage for these types of items or may not offer coverage at all. However, with a policy specifically designed for successful Texas households, you can fully protect not just your home but all the valuables and unique touches that make your house a home.
This isn't our first rodeo. Our knowledgeable agents have worked with high-net-worth families in Texas and throughout the nation to help them protect the success they've built and to help ensure a continued legacy. When it comes to protecting your Texas home, your valuables, and your assets, there's no such thing as a one-size-fits-all policy. To be effective, coverage must be uniquely customized, and that customized coverage begins with a solid base policy designed for luxurious homes and affluent families.
As independent agents, our clients are our top priority and we can work with you to build the best policy from one of several handpicked insurers — a policy built for your specific needs. We work closely with nationally recognized high-value home insurers, such as AIG, Chubb, Cincinnati Insurance, and PURE.
Do I Need Special Insurance for my TX Luxury Home?
High-net-worth Texas households have special coverage considerations. For example, if you have frequent guests or staff for your home, your liability exposure can be higher, creating risk to your assets, lifestyle, and future earnings. Specialty home insurance policies can be customized with higher liability limits and can also offer additional liability coverage for accidental injuries involving household staff, like caretakers or other household employees.
Your personal property can be another concern because standard home insurance policies often can't cover valuables or collections fully. A customized policy with a fine articles floater can give you the full coverage you need without paying for extras you don't need.
Umbrella and Excess Liability Coverage for Texas Homeowners
Complete coverage for your home and belongings is essential but our clients tell us their biggest concern is a liability — and with good reason. The potential loss due to personal liability is often much higher than losses due to damage to your home. Basic liability protection is a staple in standard homeowners insurance policies but it's not enough coverage if your family has more to lose.
An umbrella policy extends the liability protection provided by your homeowner's insurance policy and also adds some new coverages, such as coverage for libel and slander. In today's online world, it's easy to find yourself on the wrong side of an online misunderstanding. Umbrella coverage can protect you and your family as well as increase your coverage limits for liability risks already covered by your home and auto policy.
And yet, even an umbrella policy has its limits. In many cases, it makes sense to invest in an excess liability policy, which raises coverage limits even further. Some policies can provide coverage up to $100 million.
Additional Coverage for Your Unique Texas Lifestyle
A complete coverage solution considers more than just your home. High-net-worth individuals and households in Texas have more to protect.
Our expert agents can craft a personalized insurance package for any of these risks:
Secondary residences and vacation homes or condos
Antique auto collections or luxury autos
Boats, yachts, and personal watercraft
Aviation coverage for planes you own or charter
Cyber liability risk
Ransom and kidnap insurance
Identity theft coverage
We're dedicated to protecting you and your family's assets. Helping you preserve your legacy is our #1 priority.
Risks from Texas Storms
Texas weather is the envy of the nation — until it isn't. No place does stormy weather bigger than the Lone Star State. When windstorms and hurricanes come North from the Gulf, you need a homeowners insurance package that can keep up with Mother Nature.
Look for extra features like higher coverage limits for homes worth over $1 million or even estates worth over $100 million. Our agents can design customized coverage through top-tier specialty insurers.
Wind, rain, and hail are big concerns but storm surge and flooding are also risks in many parts of Texas. A standard homeowners insurance policy doesn't cover damage due to flooding, leaving your luxury home, fine furnishings, and collections at risk.
Recent changes in rules by the National Flood Insurance Program (NFIP) now makes it possible for Texas homeowners to choose their own flood insurance provider, avoiding the lower coverage limits of a standard NFIP flood insurance policy. Now you can buy the amount of coverage you need to protect your home and belongings.
Helpful High Value Homeowners Insurance Articles
For homes with a rebuild value of $1 million or more, you can choose a high-value home insurance policy instead of standard home insurance. The choice of a high-value home policy brings many compelling advantages, ranging from broader liability insurance...
read more