Protect your Legacy with the Best
*Only the most distinguished insurance professionals in the US have access to this suite of insurers.
Top A+ Rated High Net Worth Carriers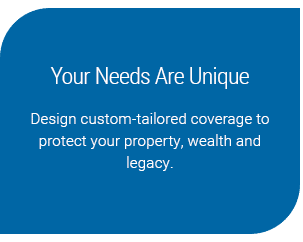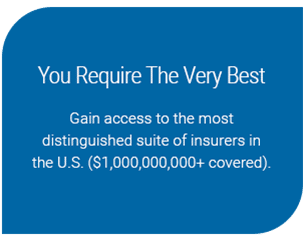 We Consistently Maintain 5-Star Reviews Across Review Sites
★★★★★
Insurance For High Net Worth Families
Protect your Assets & Legacy with Exceptional Coverage
Experience Peace of Mind with Extraordinary Claims Handling
Receive Confidential Risk Analysis from our Team of Concierge Underwriters
Minimize Liability Exposure with Enhanced Coverage Options to $100 Million

Insurance For High-Net-Worth Families
High-net worth and ultra-high net worth individuals are one of the fastest-growing insurance markets in the United States today. According to a Statista study in 2015, there were 4.78 million high-net-worth individuals.
With more than $1 million in combined assets (or $30 million, in the case of ultra-high net worth), this market is insuring multiple cars, homes, and lifestyle risks.
If you are a high-net-worth individual, you face unique insurance challenges. You may have complex risk management needs, that can range from high-end property coverage to legal or personal liability threats not experienced by the masses. And finding the right insurance policies to make sure everything is secure, can seem like a massive undertaking.

Enter high-net-worth insurance policies. High-Net-Worth insurance refers to policies designed to cater to people with high-value homes, prestige cars, high-value antiques, jewelry and collections, and those who travel a lot for personal or business purposes. The High-net-worth segment includes people with higher profile occupations such as professional sportspeople and those in the public eye who require greater levels of protection that normally may not be covered by standard insurance policies, and where a higher level of discretion or personal service is needed. Many pay more than $250,000 annually for personal insurance.
At-Risk and Underinsured
High-net worth individuals often have expensive hobbies, from collecting wine or art to raising racehorses or racing fast cars – and these hobbies are frequently underinsured. Most individuals don't do the leg-work to find out what their collection's actual market value is, meaning that the insurance they have doesn't fit the goods.
A quality high-net-worth insurance agent will attentively document all hard-to-replace possessions and appraise them accurately, thus offering an insurance solution that covers against real risks.
Risks Facing High-Net-Worth Families
There are certain types of risks that high-net-worth individuals are more exposed to than your average personal insurance client, and if you have high-net-worth, your insurance policies need to reflect those risks – both in the prevention and in loss coverage. Here are just a few of those risks at hand.
Cyber Crime
The number of connected devices per household, as well as the number of people (staff, advisers, etc.) communicating with high-net-worth individuals, make them easier targets for cybercrimes such as Identity theft, phishing scams or ransomware.
Weather Losses
Hurricanes, flooding, and wildfires affect everyone. However, high-net-worth families are often more likely to own homes in disaster-prone tropical or mountainous regions and therefore need more insurance to protect them against damages due to a natural weather event.
Employee-Related Risks
Anyone who has employees that help run their household – be they nannies, caretakers, captains and crew, or housekeepers and assistants- face extra risk. On-the-job injuries and employment practices liability are just some of the simple things that any high-net-worth individual needs to consider when setting up and insuring their household.
Security Risks
Security at home and during travel always remains a top concern for high-net-worth individuals and families. Creating a good security system is key. However, there will always be risks that need to be mitigated and insured against.
Professional Liability
Many high-net-worth individuals hold board positions, yet most individuals do not know if they're protected with professional liability coverage. Even if they are covered, they probably don't know the policy's limits or conditions. It's essential for anyone holding a position to understand and be correctly insured against any potential exposures.
Estate Taxes
People with high-net-worth most likely have high living expenses and high debt. Even a large estate can be drained quickly with the loss of the primary income earner. This makes life insurance for people with high-net-worth vital. Also, one not-so-obvious benefit of life insurance is that it helps save on estate taxes, which for high-net-worth individuals, would save hundreds of thousands or millions of dollars for their heirs.
High-Value Homes
Even for high-net-worth individuals, the primary home tends to be the most valuable asset and the most important to cover. The higher the value of your home, the more coverage you'll need to ensure that it can be completely rebuilt.  This would also apply to any vacation homes or rental properties that you own.
Helpful High Net Worth Insurance Articles
For homes with a rebuild value of $1 million or more, you can choose a high-value home insurance policy instead of standard home insurance. The choice of a high-value home policy brings many compelling advantages, ranging from broader liability insurance...
read more