New York High-Value Home Insurance
Designed for NY Homes $1M+ *Only the most distinguished insurance professionals in the US have access to this suite of insurers.
Top A+ Rated High Net Worth Carriers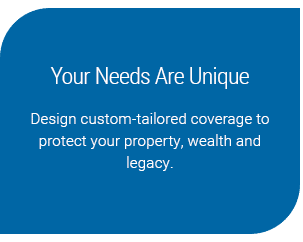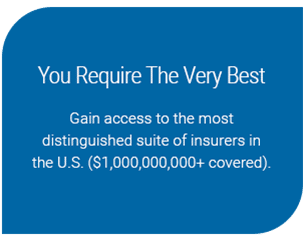 We Consistently Maintain 5-Star Reviews Across Review Sites
★★★★★
NY Luxury and High-Value Home Insurance Packages
Protect your Assets & Legacy with Exceptional Coverage
Experience Peace of Mind with Extraordinary Claims Handling
Receive Confidential Risk Analysis from our Team of Concierge Advisors
Minimize Liability Exposure with Enhanced Coverage Options to $100 Million
#1 Rated NY Home Insurance Broker

Private Client Insurance for Affluent Families in NY
You've worked your entire life to accumulate the assets you have now.  And we've worked our entire careers protecting families just like you.  We understand the emotional and financial investment involved in owning a high-value, custom home. Protecting your family's assets, wealth, and legacy is what our legacy is made of.
If you own several homes or vehicles; wine or art collections; or travel extensively, our suite of products are specifically designed to protect your family from the risks associated with your unique lifestyle. We work with top-rated high net worth insurers, including PURE, Chubb, AIG, Cincinnati Insurance, NatGen Premier and Vault Custom, to provide you with the protection that best fits your needs. After all, the finest of homes deserve the finest protection.
New York and Long Island Luxury Homeowners Insurance

The Gold Coast of Nassau County and the Hamptons and Water Mill in Suffolk County are home to some of the finest properties and estates in New York. Upscale Long Island communities like Westhampton Beach, East Hampton, Sagaponack, Bridgehampton, and Water Mill are all known for luxury homes and breathtaking vistas. Whether in Long Island's coastal areas, New York City, or further upstate, New York's high value homes bring unique insurance considerations.

 

Home insurance for high end homes requires broader coverage limits, but often you'll need more complete coverage for liability and valuables, as well as the personal property and fine furnishings that make your home unique. Our experienced, New York State-licensed Private Client Advisors work with you to build a customized package that protects your home as well as your family's lifestyle.
Luxury Home Insurance in the Hamptons & Long Island's East End
Customize your coverage for primary or vacation homes in New York City, the Hamptons, or wherever you call home. By partnering with some of the industry's most respected insurers, we help you find the best coverage for summer homes as well as your primary home. With the right high-value package, you can also protect your collections and other valuables as well as the risks unique to high-net-worth households.
High Value Home Insurance for Nassau & Suffolk County
High-value homes in Oyster Bay Cove, Sands Point, Kings Point, and other parts of Nassau county need special attention. Broad market home insurance policies may not provide enough protection for your home and belongings. Affluent areas of Suffolk county, including Lloyd Harbor, Head of the Harbor, Old Field, and the Hamptons on Long Islands East End, need special protection as well. With a high-value home insurance package, you can protect your primary and vacation homes, safeguarding against natural disasters, hurricanes, fire, storms, floods and storm surge, and many other common risks.
Bundle NYC Condo Insurance with your East End Home
New York is home to some of the most valuable real estate in the world. New Yorkers have more to protect. The right home insurance package can insure your New York City condo or co-op, while also protecting your summer Hamptons home and other residences, car collections, valuables and more.  When you combine all of your coverage with one package, you'll save the most.
Coverage Options for New York Homeowners
A high-value homeowners insurance policy builds upon the basic coverage provided in a standard homeowners policy to address the special considerations that come with owning a luxury home. At its core, your high-value homeowners policy will pay to repair or rebuild your home to its original condition in the event of a covered claim. Many of the differences in policies come in the extras, including higher limits for personal liability, and broader coverage for your personal belongings, including options that can cover the gap if rebuilding costs exceed your home's insured value.
 Along with higher coverage limits, some insurers also offer the option of cash settlements for covered insurance claims, giving you the freedom to rebuild when and where you choose. You won't find this option with a standard homeowners insurance policy from a broad-market insurance company.
What constitutes a High-Value Home in New York?
 High-value homeowners insurance policies target homes with a reconstruction cost of $1 million or more and households with a net worth of $5 million or more. However, your coverage can protect much larger amounts. Many insurers can provide packages that insure your lifestyle for up to $75 million or more. Because your coverage is customizable, you can focus premiums on areas where you have the most exposure and expand your coverage as your success continues.
Flood Insurance for NY High-Value Homes on the Coast
Nature is unpredictable and many of Mother Nature's largest dangers involve tidal water. Coastal life brings increased risk, but many flood claims in New York occur in areas that aren't high-risk flood zones. Long Island's fine homes including homes in the Hamptons, Sagaponack, or Water Mill may face greater risk due to coastal storms.
 A standard homeowners policy doesn't cover damage due to floods. However, a high-value homeowners insurance policy can be paired with a customized flood insurance policy to protect against damage due to floods and storm surge. Our state-licensed insurance advisors help you build a comprehensive strategy that protects your home with the lowest premium possible.
Recent changes in policy by the National Flood Insurance Program (NFIP) make it easier than ever to choose your own flood insurance provider and avoid the built-in limitations of NFIP flood insurance. Coastal Insurance Solutions can work with you to obtain personalized flood coverage for your home.
Umbrella Liability and Excess Liability Coverage
Personal liability risks don't end at your driveway or front gate and can occur in a number of ways, including driving, boating, or other common activities. An umbrella policy is a cost-effective way to increase your personal liability coverage for both your home and auto insurance policies to help protect your assets from life's risks.
Your umbrella policy also provides additional features that aren't available in a standard homeowners policy. Coverage for personal injury liability is a common feature for umbrella policies and can help protect you against liability due to libel or slander, a real-world concern now that social media is ubiquitous.
Additional Coverages for High-Net-Worth Individuals
Protecting your home and belongings is paramount, but high-net-worth households often have additional insurance needs. Your personalized insurance package helps to safeguard your legacy, protecting your family and your unique lifestyle.
Vacation Homes & Secondary Residences: Owners of high-value properties often own additional properties as well. Your customized high-value homeowners insurance policy can provide coverage for your other properties, including vacation homes, secondary homes, pool houses, and more.

Luxury & Antique Auto Collection: Exotic, luxury & antique automobile collections need to be protected properly. Policies should be written on an Agreed Value basis to fully insure valuable vehicles.

Yacht & Specialty Watercraft: Separate policies for insuring your "floating secondary home" should be handled with care, especially if you decide to rent out your vessel.

Aviation Insurance: Owning or renting a private jet has its perks, although most decide to put it under a corporate name, liability can still exist while using your jet for personal trips.

            

Live-in Caretakers: Having help around the house is great but you'll need to consider workers compensation insurance for full-time nannies, caretakers, chefs & other resident employees.

Ransom and kidnap insurance: In many cases, high-net-worth insurers can offer kidnap and ransom insurance if you travel frequently or you're often in the public spotlight.

Cyber Liability: Optional policy to protect your family against unwanted breaches in-home network security. Professional risk assessment teams can detect home network vulnerability and advise on a risk mitigation strategy to protect you from external threats.
Specialty Insurance Companies for High-Net-Worth Individuals
Coastal Insurance Solutions is an industry leader in High-Net-Worth Insurance Packages for New Yorkers. We've been named "Top Insurance Agency" by Insurance Business America Magazine for a reason.  Speak with one of our private client advisors to receive your confidential and complimentary risk analysis today. 
Helpful High Value Homeowners Insurance Articles
For homes with a rebuild value of $1 million or more, you can choose a high-value home insurance policy instead of standard home insurance. The choice of a high-value home policy brings many compelling advantages, ranging from broader liability insurance...
read more