Illinois High-Value Home Insurance
Designed for IL Homes $1M+ *Only the most distinguished insurance professionals in the US have access to this suite of insurers.
Top A+ Rated High Net Worth Carriers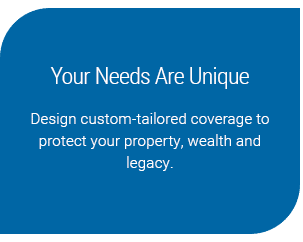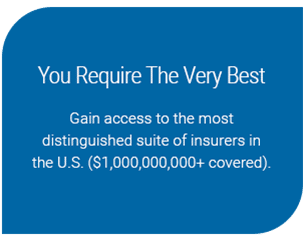 We Consistently Maintain 5-Star Reviews Across Review Sites
★★★★★
Illinois Luxury & High-Value Home Insurance
Customized Coverage for IL's Finest Homes
Exceptional Coverage for Illinois Homes worth $1M+
Designed for Luxury Homes & Automobiles
Expert Risk Analysis – Confidentiality Assured
Peace of Mind with Coverage Limits to $100 Million

Illinois Luxury Home & Auto Insurance Package
High-net-worth households have special coverage considerations. Your beautiful home is more than building materials and labor, it represents your family's individuality and the success you've attained. As an agency well-versed in the insurance needs of affluent families, Coastal Insurance knows your home represents both an emotional and financial investment.
We've partnered with the most exclusive insurers in the nation to protect the legacy you've built. Companies like AIG, Chubb, PURE, Cincinnati Insurance, and NatGen Premier are among a few of the private client insurers we partner with to protect your home, assets & future. Our advisors work closely with you to customize your coverage, compare the market, and protect your family's lifestyle. Confidentiality is always assured.
High-Value Insurance for Chicago's Finest Properties
Chicago is the third-most-populous city in the U.S. It also serves as a major global financial center and is home to the second-largest central business district in the nation.  Besides being a hub for business, the windy city is also known for its concentration of high-net-worth families.  Chicago ranks in the top 10 of ultra-high net worth individuals around the globe, with more than 3000 resident's worth $30 Million or more.  The North Shore of Chicago is home to 6 of the 10 most expensive zip codes in the Chicago Area, while Cook, DuPage, and Lake Counties are home to the majority of the Chicago's most expensive zip codes.
Our licensed advisors will guide you through the best options to protect your high-end home, condo, or co-op in the Chicago area. We work with you to craft a policy that customizes coverage based on your family's needs at the best price.
Benefits of High-Value Homeowners Insurance
Many homeowners insurance policies follow a similar structure. You'll find coverage for wind and hail, fire, lightning, and some common causes of water damage. Standard coverage can leave gaps, however, even if the insured value of your home seems high enough.
With a high-value homeowners insurance policy, you'll find higher coverage limits for your home itself, but extra features like guaranteed coverage for cost overruns may also be available. Fluctuations in the cost of materials or labor can push the limits of a standard home insurance policy, possibly leaving you underinsured. The combination of higher coverage limits and guaranteed coverage for rebuilding address this risk to your home.
Coverage for valuables is another big consideration. Many home insurance policies are designed for the broad market and households who may not have collections, expensive jewelry, or other valuables. These policies manage overall costs by limiting the coverage for valuables, often using sub-limits that further reduce coverage for jewelry and some other types of items.
By comparison, a high-value homeowners insurance plan offers higher coverage limits for your belongings and also offers features that better protect your valuables, including art, jewelry, collections, and more. Your customized coverage can even expand to cover risks not addressed by an off-the-shelf home insurance policy.
We've built our reputation as one of the nation's leading high-value insurance agencies working with Illinois families like yours. Our hand-picked insurers focus on high-net-worth coverage solutions, so we can help you protect your home and other assets. Experience brings unique value. Our agents and risk consultants know where to find hidden risks — and can help you craft an effective coverage solution to protect what you've built.
Extra Coverages for Illinois Homes
Your high-value homeowners insurance policy is one part of a larger coverage solution. While higher coverage limits for your home and belongings build the first step to protect your home, extra coverages can help protect your home and assets in other ways.
In many cases, our insurers offer risk analysis to help identify threats that can cause injury, damage, or liability. Where broad-market insurers leave many insured households unaware — and possibly unprotected, our private client advisors work with you closely so you can make wise coverage decisions.
Some high-value policies even include expanded personal liability coverage. You'll find coverage limits of up to $100 million, but you'll also enjoy broader available coverage, like coverage for libel and slander, and even coverage for aircraft and watercraft. In many high-net-worth households, personal liability is the largest single risk and has the potential to dwarf other types of claims. It makes sense to choose a coverage that can protect your legacy.
Higher Limits and Full Coverage for Personal Property
In many high-net-worth households, the value of your home's contents can be higher (or significantly lower) than the value of your home itself. Standard homeowners insurance policies overlook this key detail and often cap coverage for personal property at artificially low limits. Another concern is that these broad-market policies often reduce the amount of coverage for your personal property based on age or wear and tear. This policy structure does less to help you if you have a claim and need to replace some or all of your belongings.
With a high-value homeowners insurance package, you can protect your Illinois home against most risks but also customize your personal property limit for its full replacement value. Because your coverage can be customized, you'll pay only for the protection you need — without having to settle for a partial solution. Your personal property coverage also travels with you — anywhere in the world — protecting you wherever life's journey takes you.
Coverage for Collections- Artwork, Jewelry & More
Personal article floaters protect your most important & valuable items. If you have valuables, such as jewelry musical instruments, fine wine collections, or paintings, you can simply schedule those collections onto your home insurance policy. Personal articles coverage allows you to insure valuables for additional risks without adding to the cost of broad coverage for your personal property. Think of a collections floater as protection placed strategically where you need it most—on the items that hold the most value in your home.
Your Coastal Insurance risk advisor can review your scheduled artwork, antiques, heirlooms, and other valuables to make sure you're properly protected.
Liability: The Biggest Risk in Many High-Net-Worth Households
Financial success often also brings higher personal liability risks. Simply put, there's more at stake — and accidents can happen even in the most careful of households. Many of our clients in Illinois and throughout the Chicago area tell us that personal liability is their biggest concern.
Your luxury homeowners insurance package can offer a unique level of protection, sheltering your home, assets, and future earnings from personal liability risks. You'll find coverage options as high as $100 million, but you can also personalize your coverage to fit your unique lifestyle.
Higher coverage limits are common for our clients, but you also enjoy expanded coverage that addresses many risks overlooked by standard liability coverage. You'll find extras like coverage for board members and coverage for domestic employment practices. Your policy can also pay for your defense costs, and you can often choose your representation from among a trusted panel.
Your personal liability coverage extends to members of your household and even travels with you throughout the world. You'll enjoy protection against accidental injury claims, slip-and-fall claims, and even personal injury claims, such as libel or slander.
Flood and Land Movement Coverage for Illinois Homes
For complete protection, it often makes sense to pair your high-value home insurance with coverage for floods or land movement. Owners of high-value homes are likely already aware of coverage limitations presented by the National Flood Insurance Program (NFIP) policies. Recent changes in rules for NFIP policies now make it easier to supplement your flood coverage or replace your NFIP policy with a private market solution.
A number of new insurers — as well as time-tested providers — now offer flood coverage without the lower limits of NFIP policies and often at more attractive rates. This means you can customize your coverage to protect your home and personal belongings more completely.
In many cases, you can also bundle coverage for earth movement, which can include earthquakes, landslides, or sinkholes. Both flood coverage and land movement coverage can be crucial to protecting your Chicagoland area home from some of nature's biggest risks.
Essential Coverage for Your Illinois Household
High-net-worth households live unique lifestyles. The risks you'll need to insure against may be different than those of your neighbors. You can customize your high-value homeowners insurance package to protect your unique lifestyle and risks which may be specific to your household.
● High-Value Autos and Auto Collections
● Yachts, Boats, and Watercraft
● Aviation Coverage
● Coverage for Vacation Homes, Including Home Outside the US
● Protection for Secondary Residences
● Identity Theft Coverage
● Cyber Liability Protection
● Liability Protection for Board Members and Volunteer Activities
● Coverage for Domestic Employees
● Ransom and Kidnap Insurance
Reach Out to the Experienced Advisors at Coastal Insurance
Coastal insurance works with high-net-worth households like yours to find effective coverage at a price that makes good business sense. We bring years of experience to the conversation and work with you on a consultative basis, offering honest input while keeping confidentiality paramount.
Protecting the legacy you've built is our top priority. Reach out to coastal insurance today to learn how we can help you protect your Illinois home.
Helpful High Value Homeowners Insurance Articles
For homes with a rebuild value of $1 million or more, you can choose a high-value home insurance policy instead of standard home insurance. The choice of a high-value home policy brings many compelling advantages, ranging from broader liability insurance...
read more