Washington High Value Home Insurance
Designed for WA Homes $1M+ *Only the most distinguished insurance professionals in the US have access to this suite of insurers.
Top A+ Rated High Net Worth Carriers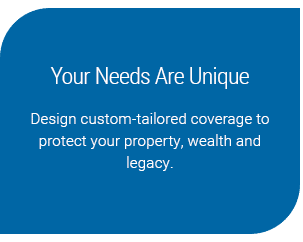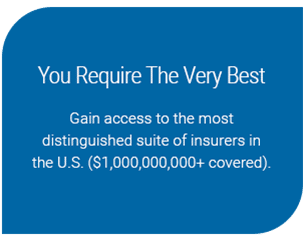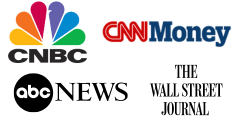 5-Star Reviews Across Review Sites
★★★★★
Washington High Value Home Insurance
Uncompromising Coverage for High-Net-Worth Washington Homeowners
Compare Customized High-Value Insurance Packages
Private Client Insurance Designed for Successful Households
Choose from Chubb, PURE, Cincinnati, AIG Private Client, & Vault
Ranked Top in U.S. by Insurance Business America

Washington Luxury Home and Personal Insurance Packages
Nearly eight million people call the Evergreen State home, making Washington state a continuing success story of growth and innovation against a scenic backdrop of natural beauty. Washington's luxury homes in coastal Western Washington cities and towns such as Seattle, Hunt's Point, Medina, and Tacoma need specialized coverage designed to protect the success you've built. Near the Idaho border, Spokane is the hub of eastern Washington state, bringing its own insurance considerations for high-net-worth families.
At Coastal Insurance, our team of advisors works with successful households throughout the nation to provide customized insurance options designed to protect your home, your belongings, and your lifestyle. We'll guide you through your coverage options and make it easy to compare quotes from leading high-value insurers serving Washington state.
High-Value Insurance for Custom Homes in Seattle, Tacoma, and other areas of WA
High-value home insurance packages provide a flexible policy structure that allows you to focus your coverage to suit your unique needs, expanding on the coverage you'll find on standard home insurance policies with higher limits and additional coverage options.
We work with top-rated insurers in the space, proven companies like PURE, AIG Private Client, Chubb, and Cincinnati Insurance that specialize in insurance for high-net-worth families. As an independent agency, we can access the nation's premier home insurance providers, finding the best-matched value for your specific coverage needs.
Washington State High-Net-Worth Insurance Packages
A standard home insurance policy offered through mainstream insurers limits protection for your home, also reducing available coverage for valuables and personal liability. Fine homes with a rebuild value of $1 million or more qualify for high-value policies, a specialized type of home insurance policy designed with higher limits and more flexible coverage options that let you craft an insurance strategy that matches both your budget and your priorities.
We'll work with you confidentially to design a customized home insurance package that protects your home and your unique lifestyle. With personalized coverage, often you'll enjoy rates lower than traditional insurance and enhanced protection from policy options carefully matched to your coverage priorities.
Expanded Coverage for Washington State's Finest Homes
Higher coverage limits are just one benefit of a high-value homeowners insurance policy. You'll also discover a better way to insure valuables, custom decor, and the finer aspects that make your home one-of-a-kind. Your home reflects your persona. With a high-value policy, you can adjust your insurance to match your persona as well, adding coverage options where needed according to your priorities.
Traditional home insurance policies can leave gaps in coverage, possibly leading to costly losses. Limits for rebuild costs, liability coverage, and valuables top the list of concerns. High-value home insurance policies provide higher limits, but just as importantly the ability to shift coverage premiums to areas where you need the most protection.
This flexible structure allows for better overall coverage. You'll also find savings by choosing a company that specializes in protecting households like yours. Broad insurers need to address a wider range of risk profiles, whereas high-value insurers work with a select group, often leading to significant savings on premiums.
Specialized high-value home insurance policies expand coverage for your home and belongings, bringing replacement cost coverage options for your possessions and available extended replacement cost coverage for your home itself, ensuring you'll have protection even if the rebuild costs in a covered claim exceed your policy limit.
Your policy also protects enhancements you've made to your home, including customizations or additional features, such as tennis courts, pool houses, hardscaping, and other improvements.
Repairs following a claim can be disruptive, but your policy provides protection for additional living expenses as well, helping to cover costs if you're forced to leave your home temporarily while repairs are completed.
As life changes, insurance needs change as well. We'll work with your closely with periodic assessments to adjust coverage as home rebuild costs increase or other coverage needs change.
Complete Coverage for Your Personal Property
Contents coverage protects your personal belongings. A standard policy typically caps coverage at half the home's insured value. While this structure can work for broad-market coverage needs, high-net-worth households benefit from higher coverage limits and more flexible policy options.
A high-value policy removes artificial limits, letting you define your coverage priorities and matching your protection to your risk. You'll also find options to insure your personal property to full replacement value, patching a gap often found in traditional home policies.
Protect fine-furnishings, fine clothing, collections, and other belongings that make your home and family persona uniquely yours. Focus your coverage on the areas where you have the most exposure to protect your belongings while saving on premiums.
Uncompromising Coverage for Jewelry and Other Valuables
Fine art, collections, jewelry, and other luxury items benefit from coverage provisions specifically designed to protect the full value of your most precious belongings. You'll enjoy broader protection that insures against additional risks for valuables, combined with the option of no-deductible claims. Your coverage travels with you, protecting your valuables anywhere in the world.
Safeguard Your Family Against Liability Risk
Well-designed protection for your home and belongings is essential, but often the single-largest loss exposure is found in liability risk. Your high-value home insurance package provides coverage for personal liability risks with available limits of up to $50+ million, allowing you to customize your limits and coverage options to match your unique risks.
Choose an excess liability policy that expands limits for existing liability coverage or select an umbrella policy that protects against additional risks while expanding liability coverage limits for other policies. Customize your policy to match your activities and lifestyle, including cyber liability, volunteer activity, or risks associated with serving on a board.
Insurance Coverage For Floods, Earthquakes, and Regional Risks
With its mix of coastal areas, mountains, and of course rain, living in Washington state brings risks not found in other areas. Again, a high-value insurance package lets you design your coverage to answer natural concerns specific to your area.
Choose from customized flood insurance policies that can pair with or replace coverage from the national flood insurance program (NFIP). With a private-market policy designed for high-value homes, you can choose coverage limits and deductibles matched to your priorities. Our private client advisors work with you to explain coverage options to expand coverage for your home and personal property.
Select only the coverage options you need. For some that might be flood coverage, while other households may need earthquake coverage or protection against wildfires. A high-value homeowners insurance package lets you customize to safeguard against risks specific to your area.
Protect Your Unique Lifestyle
Personalize your high-value insurance with options and policies to protect your lifestyle.
Protect second homes and vacation homes
High-value car insurance for luxury autos or collections
Identity theft insurance
Cyber liability insurance
Ransom and kidnap insurance
Liability insurance for household employee risks
Coverage for boats and watercraft
Liability insurance for board members and volunteer activity
Speak with a WA State-Licensed Private Client Insurance Advisor
As an independent agency with over 20 years of experience protecting high-net-worth clients, Coastal Insurance can help you compare homeowners insurance rates and options from leading Washington home insurers. We'll work with you confidentially to understand your unique risks and help you design an effective insurance strategy that considers your complete lifestyle. Expect friendly guidance and outstanding service, combined with the best rates possible. Reach out to our experienced insurance advisors to get started comparing custom customized quotes from Chubb Insurance, PURE Insurance, Cincinnati Insurance, AIG Private Client, and Vault.