Coastal Offers Specialty Insurance From Vault for High-Net-Worth Individuals
Top A+ Rated High Net Worth Carriers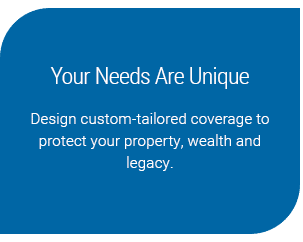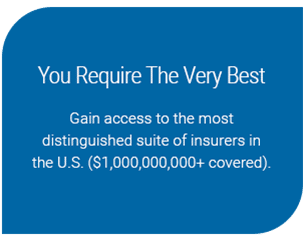 We Consistently Maintain 5-Star Reviews Across Review Sites
★★★★★
VAULT High Net Worth Insurance Packages
Superior Coverage for High-Value Homes and Private Auto Collections
Formed by Thought Leaders at AIG's Private Client Executive Team
Designed to Improve Customer Experience in the High Net Worth Marketplace
Created to compete with Chubb, AIG & PURE's High Value Programs
Backed by Allied World Assurance, a Global Reinsurance Provider

Vault Insurance for High-Value Homes

Founded in 2016 by industry veterans of leading high-value insurers like AIG, Vault offers a refined vision and innovative ways to protect the success you've achieved. Backed by a $100 billion initial investment, Vault began writing coverage for luxury homes in Florida, quickly expanding to other exclusive areas along the east coast. Now, Vault offers insurance coverage in nearly 20 states, spanning much of the eastern seaboard and reaching western points in Colorado and Texas.
Where many insurers service a broad book of business, Vault focuses on the unique coverage needs of high-net-worth individuals and affluent households. High-net-worth households have more to protect. Vault answers this need with customizable coverage and a suite of extras that many typical insurers don't provide at any cost.
Coverage options make Vault a solid choice when protecting your home, but claims clearance is where insurance providers earn their reputation and build loyalty with their clients. With an average claim response time of less than 1 hour and initial claims payment within 48 hours, it's clear Vault makes each client a priority.
Vault's Unique Value-Added Coverages
High-value home insurance providers focus on exclusive homes, so higher coverage limits are a given. Vault covers homes starting at $1 million rebuild value. However, not all high-value home insurance providers offer the complete complement of policy features and benefits offered by Vault. This young insurer draws on the wisdom gained by its experienced leadership, filling coverage gaps left by other insurers.
Cash payment option for covered claims: In some cases, you may not wish to rebuild in the same place. Vault gives you the option of cash payment rather than forcing you to rebuild.

 

Risk management services: To identify and reduce risks, you need to know where to look. Vault's experienced staff can provide a complimentary consultation to help mitigate loss risks.

 

Legal defense for liability claims: Regardless of the outcome, legal fees for liability claims can add up quickly. Vault includes these legal costs in your coverage — without reducing the amount of coverage available to pay claims.

 

Agreed value coverage for high-value autos: Standard auto policies automatically adjust the insured value based on depreciation, often leaving coverage gaps. With Vault, insuring your exclusive autos for full value is easy.
When it comes to insuring your home itself and the valuables that make your house a fine home, Vault offers a group of options that's difficult to find with other insurers.
 

Extended replacement cost:

Changing market costs for labor and materials can cause a claim to exceed coverage limits. With Vault, you can rebuild your home to its original beauty even if repair costs exceed your policy's coverage limit.

 

Contents replacement cost: Standard home insurance policies reduce the insured value of your home's contents based on age. With Vault, your policy provides enough coverage to replace household items damaged in a covered claim.

 

Large loss deductible waiver: Deductibles are the part of the claim you pay and exist to keep coverage more affordable by reducing the number of claims. However, with bigger losses, a deductible simply reduces your coverage and can slow repairs. Vault offers a policy option to waive deductibles on claims that exceed $50,000.

 

Service line coverage: Standard home insurance policies typically stop coverage at the walls of your home, leaving pipes and electrical wiring without coverage. Vault pays to repair or replace homeowner-owned exterior service lines damaged in a covered claim.

 

Higher jewelry coverage limits: Vault increases standard jewelry coverage to $50,000, while still providing enhanced full-value coverage for precious items you specifically insure.

 

Personal injury coverage: In addition to customized coverage for bodily injury liability or damage to the property of others, Vault also offers liability coverage for libel and slander. In today's online world where a few words can start an unintended firestorm, this coverage becomes essential.
But Vault's unique value offering doesn't stop there. You'll also benefit from identity fraud coverage up to $25,000 to cover direct expenses and home cyber protection coverage — including extortion coverage — with coverage limits of up to $500,000.
Exceptional Financial Strength
The ability to clear claims quickly is essential and Vault's leading financial ratings demonstrate the company's resources if you have a claim. Allied World, a provider of operational support and financial support for Vault is rated "A" by A.M. Best, an outstanding rating also shared by Vault E&S Insurance Company, itself. Vault Reciprocal Exchange (VRE), a Vault insurance division owned by policyholders, boasts impressive financial ratings as well, partly due to VRE's exclusive group of members who seek ways to minimize losses.
Why Choose Vault
From risk management consulting to white-glove claims service, Vault offers a suite of coverages and options that set this young insurer apart from the rest. Vault leverages technology to reduce coverage costs while also helping to reduce the frequency and scope of claims. Even in the most careful of households, losses can happen, however. Take comfort in knowing that your Vault policy protects your home with higher coverage limits that can expand if needed, without overlooking the less-obvious coverage details that may only become apparent if you have a claim. While Vault is new in comparison to some insurers, the experienced team at Vault knows where to find hidden risks and how to protect the success you've built.
Expanding Availability
Vault offers well-designed insurance solutions for high-net-worth households in nearly 20 states as well as Washington, D.C.
Florida

South Carolina

Colorado

Connecticut

District of Columbia

Georgia

Louisiana

Maine

Maryland

Massachusetts
Montana

New Jersey

New York

North Carolina

Pennsylvania

Rhode Island

Tennessee

Texas

Virginia

Wyoming
Contact the Licensed Agents at Coastal Insurance

Just reach out for a customized quote to protect your fine home. At Coastal Insurance, we'll work with you closely to help you choose the right coverage to protect your home, your assets, and the lifestyle you enjoy. Our licensed agents offer honest feedback on your risks and coverage options with confidentiality assured. We've built our independent agency working with high-net-worth households, addressing the unique coverage considerations of families like yours. Protecting your legacy is our top priority.
Helpful High-Value Homeowners Insurance Articles
For homes with a rebuild value of $1 million or more, you can choose a high-value home insurance policy instead of standard home insurance. The choice of a high-value home policy brings many compelling advantages, ranging from broader liability insurance...
read more